FOUND THE MISSING POWER! My SLS Black Series is Back to Full Horsepower
페이지 정보
작성자
관리자

(66.♡.79.228)
댓글
0건
조회
19회
작성일

22-09-23 02:15
본문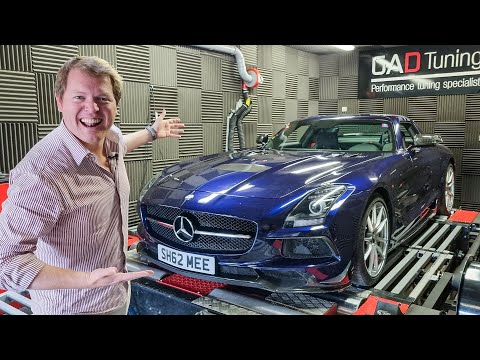 It's finally time to get to the bottom of the power issues with my SLS AMG Black Series! When I bought it, a stock dyno run showed that it wasn't making the full 631hp you'd expect. Fast forward and some extensive work later, let's visit GAD Tuning to find out where it is now.
I bough the SLS Black Series at the start of 2020; a car that was original Himalaya Grey and had driven around 10,500km (6,500 miles), before I imported it to the UK and change the colour to Mystic Blue. That wasn't where the modifications stopped, as we went to Opus in Germany to upgrade it to the RENNtech R1 package, but before even starting did an initial dyno run so we could compare the before and after. This is where the problems started to show up, as it came in at 582hp, rather disappointingly 49hp down on standard. With a large naturally aspirated engine like this you would always expect something, but not that much.
Regardless, we did the upgrades to the R1 kit including the headers, sports cats and tune, before doing another dyno run which showed that it had been brought back to above stock power and some good gains to 636hp. However, the question has been on our minds ever since, and the same for many of you, where did that missing power actually go?!
Fast forward, and the SLS has spent an extended period of time with Avantgarde for a 5-figure overhaul of numerous components including a rebuild to the top-end of the engine, replacing a host of parts along the way. Therefore, the ultimate test is to bring it to GAD Tuning for a dive into where it is, to install some new BMC Air Filters and ultimately a final tune to have it running properly.
It's important to note that no two dynos will record the same numbers, and take into account all sorts of different elements. However, starting from a basis, we have the first run showing 581hp and 677Nm, which falls bang on to Anthony's expectations.
Things get interesting with the installation of the new Air Filters from BMC, as the next runs bring it to 603hp and 696NM, gains of an extraordinary 22hp and 19Nm from a filter change alone.
The next stage is to work on the tune, and 5 minutes later a final run gives us an output of 624hp and 704Nm, which equate to approximately 650hp in comparison to manufacturer figures, and therefore about where it should be for the level of modifications made to this car. Of course in something with a twin turbo engine, you'll have initial numbers above claims, and it's easy to tune them up by lots more, but for the M159 this is impressive and very satisfactory.
A huge thanks to Anthony at GAD for his work on the dyno runs, and to Steve and the team at Avantgarde for the blood, sweat and tears over the last 12 months to have this car running properly!
http://instagram.com/gadtuningltd
http://instagram.com/avantgarde_mb
Thanks for watching, Tim
Chapters:
00:00 Intro
01:40 Recap the Engine Problems
05:30 Dyno Preparation
06:12 Stock Dyno Run
09:17 Installing BMC Air Filters
09:44 2nd Dyno Run with BMC Air Filters
13:00 3rd Dyno Run with GAD Tune
17:44 Final Thoughts
19:07 Wrap Up
#AMG #SLSBlackSeries #Dyno
Subscribe:
http://bit.ly/Shmee150YT
Website:
http://www.shmee150.com
Shop:
http://shop.shmee150.com
Instagram:
http://www.instagram.com/shmee150
Facebook:
http://www.facebook.com/shmee150