COLLECTING MY DREAM CAR! Mercedes SLS AMG Black Series
페이지 정보
작성자
관리자

(66.♡.75.169)
댓글
0건
조회
24회
작성일

20-03-22 05:00
본문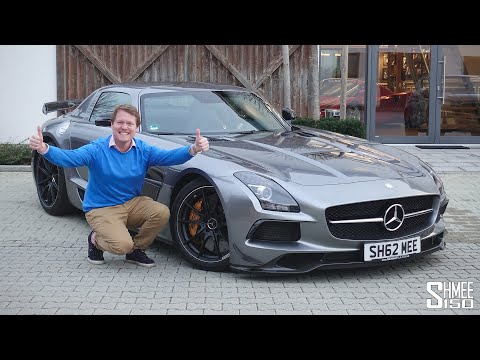 The day has arrived to collect my new car, the Mercedes-Benz SLS AMG Black Series! After years of dreaming that one day I could be adding this car to the Shmeemobiles garage, right as the channel reaches 2 million subscribers, it is finally time to bring my own SLS Black Series home!
I first drove an SLS AMG Black Series almost 3 years ago and decided right then that one day I would find a way to add one to my garage. I've followed up that first experience a few times since with further drives, one of which just under 6 months ago really sealed the deal for me that it was going to happen. After following the market for a long period of time, when I worked out that this car for sale at Schaltkulsse near Munich was exactly one that I'd actually filmed it myself 6 years ago - I didn't spend any further time thinking about it!
The SLS Black Series is a seriously rare machine, only about 350 were ever made in total incorporating some of the chassis and suspension components of the dominating SLS AMG GT3 racecar. Based on the 'regular' SLS AMG it has the iconic gullwing doors that pay tribute to my favourite classic car, the 300SL from the late 1950s, while also being a shape that's so instantly recognisable and houses a 6.2l naturally aspirated V8 under the exceptionally long bonnet. That front mid-engine layout creates the most incredibly dynamic drive combined with a grumbling soundtrack unlike any other, and these are just a few of the reasons I love this car quite so much.
We kick off the collection day at the Motorworld in Stuttgart which links back to the very day in which I saw what is now my car for the first time. That day we hosted a Shmeeting where I met with the team from VOS Cars, and went back to visit their showroom that contained this Black Series wrapped in a 'Ring Police' livery at the time. Never would have thought that one day that might actually become a Shmeemobile!
Departing from the Motorworld, it's a drive in the AMG G63 with Turbo Transport's trailer in tow to head towards Schaltkulisse in Munich to see my new car for the very first time. Having bought and paid for it sight-unseen, this is the very first moment I laid eyes on it, and of course wearing the SH62 MEE plate representing the glorious 6.2 litre engine within.
I'd like to say a number of thank you to those involved. Firstly to Kevin at Schaltkulisse for all of his help and being patient with me throughout the process to purchase the car. To Chris from TheCarFinders for helping in terms of the importation process that is to follow. Also to my both my friend GerCollector for the introduction and checking out the car for me, and to Tony from Turbo Transport for his expertise bringing the car back home. Finally, I would like to thank each and every one of you who has been part of the Shmee150 journey over the last 10 years, and have helped the channel now reach 2 million subscribers!
Schaltkulisse
https://www.schaltkulisse.de
http://instagram.com/schaltkulisse
TheCarFinders
http://instagram.com/thecarfinders
Turbo Transport
http://instagram.com/turbotransport
GerCollector
http://instagram.com/gercollector
NOTE: The timing of this milestone is far from ideal due to current global circumstances, however I am also incredibly excited and proud to celebrate my channel reaching 2 million subscribers. The process of purchasing this car came well before the current situation exploded, otherwise this would not have been possible due to border restrictions, self distancing, and other health and safety issues. I hope you can join with me in a positive fashion celebrating this achievement and a personal thank you to all of your continuous support. My best wishes go out to everybody who is affected by this global crisis and my thoughts are always with you especially during these trying times.
Thanks for watching, Tim
Subscribe:
http://bit.ly/Shmee150YT
Website:
http://www.shmee150.com
Shop:
http://shop.shmee150.com
Instagram:
http://www.instagram.com/shmee150
Facebook:
http://www.facebook.com/shmee150