HYPERCARS INSIDE THE HOUSE! Veyron, LaFerrari and 599 GTO Drive
페이지 정보
작성자
관리자

(66.♡.79.82)
댓글
0건
조회
21회
작성일

19-08-22 02:00
본문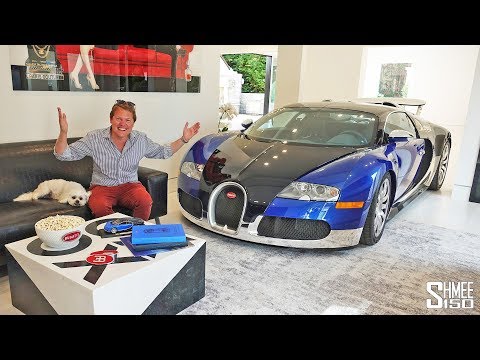 A Veyron and a LaFerrari parked beside a fireplace and a piano in the house, that's not something you see every day! Join me visiting @ferraridrive to see the cars, taking the 599 GTO for a test drive and some fun with the Bugatti in the living room!
To kick things off, Enzo the dog is keeping an eye over proceedings as we explore the garage layout that comes inside the living room and the house. On display are both the Bugatti Veyron 16.4 Coupe and the Ferrari LaFerrari that I had seen in Monterey during Car Week while out and about with TheStradman. Outside are both the Ferrari 599 GTO and Speciale A, two other cars from the collection that also features an F12 TDF, Pista and Pista Spider, Rolls-Royce Dawn and more.
With the 599 GTO presented in stunning Vinaccia paintwork, with gold wheels for contrast, it's my first choice for a quick run out to experience the sound of the stunning engine and a feel for that era of the car. Upon return though, we start to have a bit of fun with the Veyron in the living room...
Be sure to give @ferraridrive a follow at:
http://instagram.com/ferraridrive
Thanks for watching, Tim
Subscribe:
http://bit.ly/Shmee150YT
Website:
http://www.shmee150.com
Shop:
http://shop.shmee150.com
Instagram:
http://www.instagram.com/shmee150
Facebook:
http://www.facebook.com/shmee150