This Garage Inspired My Own Car Collection!
페이지 정보
작성자
관리자

(66.♡.79.87)
댓글
0건
조회
60회
작성일

19-08-12 02:00
본문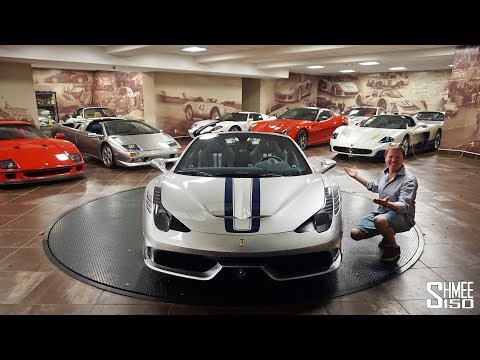 Is this not the fantasy garage!? It's a blast from the past for me now to visit a collection I first saw pictures of many, many years ago. Inside we find the likes of an MC12, a rare silver F50 and many more cars in a tremendous environment too. My dream is to one day showcase my cars in a garage like this!
Before I even started car videos on the channel, I was always interested in car collections and how the owners would choose what to buy and how to present them. Back 10 years ago we didn't have Instagram or instant access to such things and as such you rarely saw anything along these lines but a few select images existed of this specific collection and I was awestruck by them.
Fast forward a decade and I find myself here and lucky enough to share this amazing collection of cars with you, presented in a unique way at the end of a ramp drive way to go beneath the house, and equipped with a turntable to put the cars in place. The collection includes many of the familiar cars from the photos before like the Maserati MC12 and silver Ferrari F50, as well as an F40, Porsche Carrera GT, Ford GT and also some newer Ferraris like the F12 TDF and Speciale Aperta. There is no question that this is both a special collection and a special garage, and it's hugely exciting to me to have been fortunate enough to visit.
I'd like to extend a huge thank you to the owners who hosted my brief visit and allowed the opportunity to show you this connection to my own inspirations.
Thanks for watching, Tim
Subscribe:
http://bit.ly/Shmee150YT
Website:
http://www.shmee150.com
Shop:
http://shop.shmee150.com
Instagram:
http://www.instagram.com/shmee150
Facebook:
http://www.facebook.com/shmee150