BMW X3 vs BMW X5 comparison REVIEW - which BMW SUV to buy? X5 40i vs X3 M40i
페이지 정보
작성자
관리자

(66.♡.79.115)
댓글
0건
조회
25회
작성일

22-08-21 22:30
본문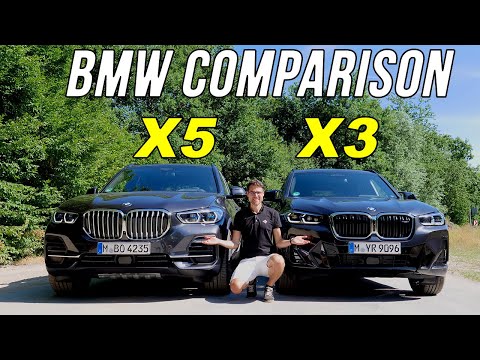 This is our in-depth comparison review of the BMW X3 M40i vs BMW X5 40i. We're taking a look at Exterior, Interior and the driving experience.
WATCH OUT FOR SPAM/FAKE ACCOUNTS. Recently, there have been fake accounts faking as our identity and saying things like "Message me on Whatsapp/Telegram" etc. We never ask you for your personal details, do not give out address etc. and do not fall for these cheap tricks. Just follow our official channels linked with our verified channel badge :-) We do have language channels with subtitles in different languages, these are official, but you just subscribe to them and they won't ask your for your personal details etc. /Thomas
►Follow us on Instagram @autogefuehl and @thomas.letsgo
►Subscribe here:
https://www.youtube.com/user/autogefuehl?sub_confirmation=1
►Compare the Mercedes GLE:
https://youtu.be/-J8A-gsd6eI
►Compare the Mercedes GLC:
https://youtu.be/AHzgckHPjzE
00:00 BMW X3 vs BMW X5 !
01:01 Length and design comparison
01:51 Sound, rear and technology
03:05 Interior and seats BMW X3
04:46 User interface X3
06:20 Infotainment system OS7
06:54 Digital instruments M40i
07:13 Interior and seats BMW X5
08:27 User interface X5
09:15 Infotainment system and instruments X5
09:30 Rear seats comparison X3 vs X5
09:53 Trunk / boot comparison
12:15 Exhaust and engine check
13:16 BMW X5 40i Autobahn acceleration
14:45 Air suspension vs adaptive suspension
16:05 User interface while driving
16:25 Driving difference X5 vs X3
17:36 Fuel economy / consumption X5 40i R6 vs M50i V8
18:17 More high speed motorway driving
20:00 Agile driving X5
21:27 Driving part BMW X3 with acceleration
22:15 Faster and sportier than the X5?
24:50 Difference X3 and X1
25:18 X3 and X5 with same engine today
26:12 Assistance systems and user interface
26:58 More high speed motorway driving X3 M40i
28:07 German Laufkultur
29:18 BMW X3 vs Mercedes GLC vs Audi Q5 comment
30:09 Agile driving with the X3 M40i
31:13 Driving comparison X3 vs X5
32:28 Conclusion: Which one will I take home?
#BMW #BMWX5 #BMWX3
Transparency note: Autogefühl videos are independent and free from editorial influence on opinion and rating. But since manufacturers enable us to do the reviews in the first place, for legal reasons this video is marked as _advertisement_.
►FULL REVIEWS 2022 Q2
https://www.youtube.com/watch?v=_v1xHubJ-Xc&list=PLZqvo5rXklBtCFzO0V_tqErsqOT_nJHLn
►FULL REVIEWS 2022 Q1
https://www.youtube.com/watch?v=8Y2QBS_4PA4&list=PLZqvo5rXklBuYp49qgJ1tl3MIxuQHxD_z
►FULL REVIEWS 2021 Q4
https://www.youtube.com/playlist?list=PLZqvo5rXklBt0CC6a9NhEOmoG3vETiPjB
How to support Autogefühl?
►Subscribe, activate notifications (bell symbol) and bookmark our direct channel:
http://www.autogefuehl.com
►Support us on Patreon:
http://www.patreon.com/autogefuehl
►Exclusive supporter: Ajlan Saeed
What is Thomas wearing?
► Noah shoes
https://www.noah-shop.com/
Autogefühl viewers get a 20 % shoe discount with the following code: Autogefuehl-20
Social Media & Blog
►Facebook:
http://facebook.de/autogefuehl
►Twitter:
https://twitter.com/autogefuehl
►Instagram:
https://instagram.com/autogefuehl/
►Instagram:
https://instagram.com/thomas.letsgo/
►German Blog:
http://autogefuehl.de
Autogefühl is your no. 1 resource for in-depth car reviews and your no. 1 community to discuss cars." Each year we present you 150 cars from every segment and from a wide range of brands. If you have any suggestion, just write a comment or contact us on our other socials. Even if you have further remarks, just let us know.